Our family business has been at home in Munich since it was founded over 85 years ago. The classics of our hometown are undoubtedly "Weißwürste" with fresh pretzels and sweet mustard. It used to be said about the Munich specialty that "Weißwürste" were not allowed to hear the 12 o'clock ringing. This was due to the fact that there were still no options for refrigerated storage and the fresh sausages should be enjoyed as quickly as possible. Fortunately, nowadays you can take a little more time for it.
So why not use the time and make the sweet mustard yourself? Our strong, spicy Breitsamer honeys ensure perfect sweetness and a particularly fine taste.
Ingredients for 6 portions:
170 g white and brown mustard seeds
1 pinch of clove powder
120 g of brown sugar
1 tbsp Breitsamer Honey e.g. Chestnut Honey or Bavarian Forest Honey
60 ml white wine vinegar
100 ml of water and a 1 pinch of salt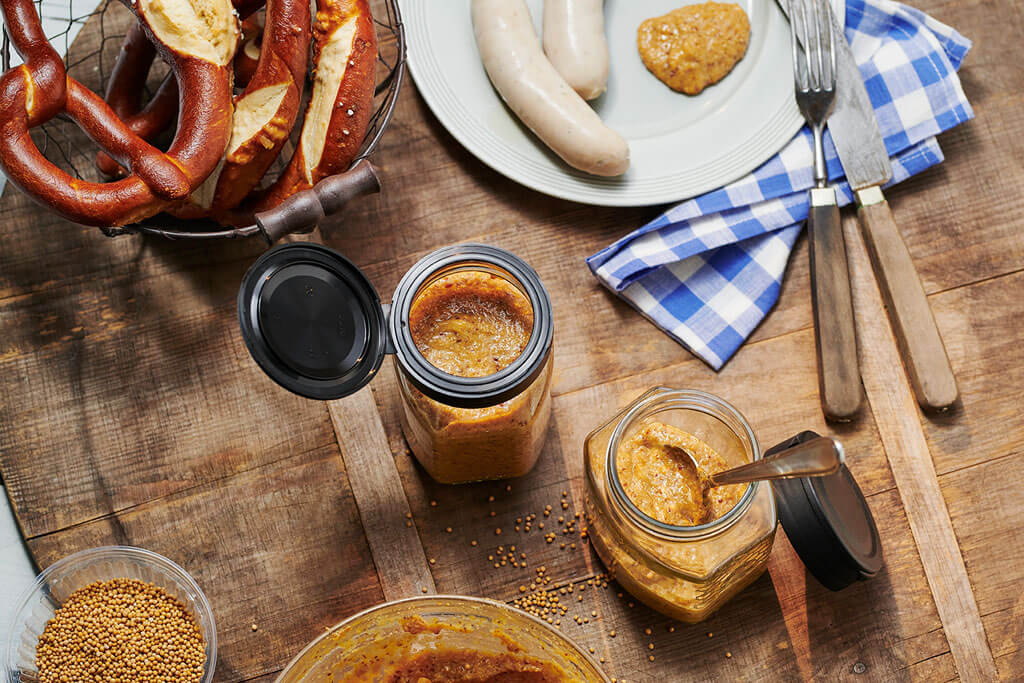 Preparation
Coarsely grind the mustard seeds in a mortar.
Bring the water to boil briefly and pour it over the mustard seeds while still hot. Then let it rest for about 10 minutes.
Heat the pan without adding fat, add sugar and caramelize while stirring constantly.
Add the caramelized sugar, honey, vinegar, a little salt and clove powder to the mustard seeds. Mix with a hand mixer for a few minutes until a creamy mixture is obtained.
Fill the mustard into a clean container, for example a Breitsamer honey jar with a fliptop, and leave it tightly closed in the refrigerator for 2 days.
https://www.breitsamer.de/en/product/chestnut-honey-liquid-500g/
https://www.breitsamer.de/en/product/bavarian-forest-honey-echtes-schmankerl-liquid-500g/