From the untouched forests of Tasmania
Exeptional character among honeys worldwide
Liaising with beekeepers in faraway countries has been a long tradition in the Breitsamer family. A particularly loyal collaboration connects us with the Tasmanian Honey Company, who provide us with this exquisite honey rarity exclusively.
These honeys have an exceptional character among honeys worldwide. They are a reflection of a unique natural heritage, many parts of which now are under the protection of UNESCO. The Tasmanian Honey Company bottles and seals their honey on location with the utmost care.
The Tasmanian Honey Company
The Tasmanian Honey Company was founded by a beekeeper (Julian) in 1978. He has always had a marked passion for Tasmania, for its wild forests and for the honeys these produce. Even as a child, Julian was interested in bees.
The Tasmanian Honey Company team's recipe for success is their passion for bees, for nature and for their wonderful, rare leatherwood honey. They consider it to be a distillate of pure wilderness. Around their leatherwood honey, there is now a small selection of products to choose from.
Julian's team takes complete care of their own colonies of bees by themselves, thus enabling them to bottle their wild honey, from a pure environment, gently and directly. Let yourself be enchanted by these flavourful rarities.
Flowery flavour
Decorative jar
Original product – bottled directly in Tasmania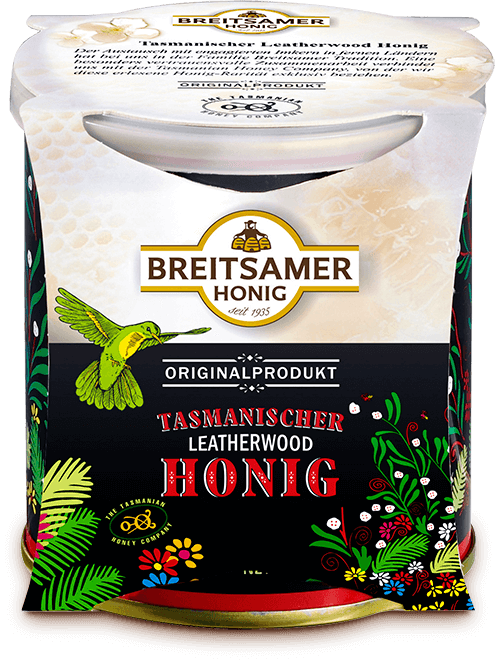 Original Tasmanian Leatherwood honey
Connoisseurs love this honey speciality from the white blossoms of the enchanting leatherwood tree, only found in the Tasmanian rainforests. The texture is silky soft, the aroma at first powerful and then exotic flowery notes slowly unfold – recommended by renowned starred chefs.