Breitsamer fairtrade honey
Enjoy the taste of fair honey sourced from small, rural beekeepers
FAIR AND CLIMATE NEUTRAL – only at Breitsamer Honey!
Our Faires Frühstück (fair breakfast) Honey is the first climate-neutral honey in our product range, and a pioneer for the German honey market. 100% of our Fairtrade honeys come from South and Central America.
Fairtrade works
Beekeepers receive stable minimum rates for their honey, additional bonuses for community projects, long-term delivery and purchase agreements, as well as opportunities for pre-financing. Small, rural beekeepers can invest in a sustainable future by being a part of Fairtrade .
Labelling and transparency
You can find out where your honey was produced on each individual glass. In addition, you can embark on a journey to the individual co-operatives by using the Fairtrade code 1575001 on fairtrade.de. With the ID number 12160-1703-1001, you can retrace our emissions offsetting at www.climatepartner.com.
Contribute to climate protection! Support small-scale beekeepers in South and Central America by enjoying this artisanal natural product.
Learn more about our commitment to Fairtrade and climate compensation with Fairtrade Carbon Credits.
FAIRTRADE HONEY
FAIRES FRÜHSTÜCK HONEYS ARE CLIMATE-NEUTRAL
FROM SMALL-SCALE BEEKEEPERS
AROMATIC FAIRTRADE HONEY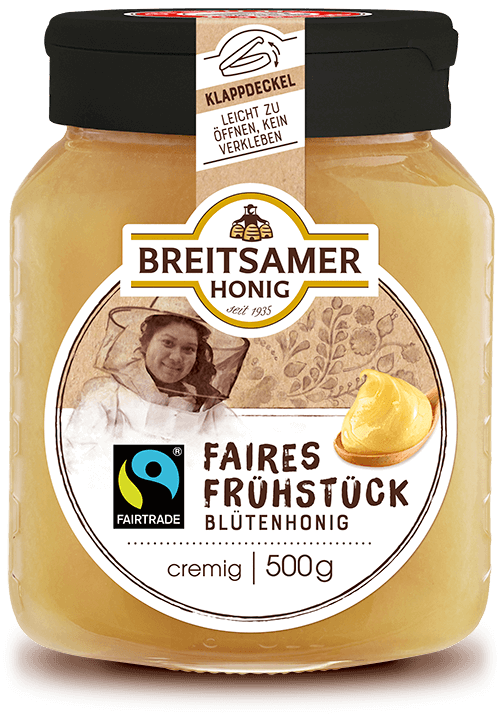 FAIRES FRÜHSTÜCK HONEY, CREAMY
For lovers of creamy honey, bees gather the nectar from a sea of colourful blossoms from the start of the year until the high of summer. By choosing the right location and time of harvest, the beekeeper determines which nectar the bees use and how fast and finely the honey crystallises. Support small-scale beekeepers by enjoying this artisanal natural product.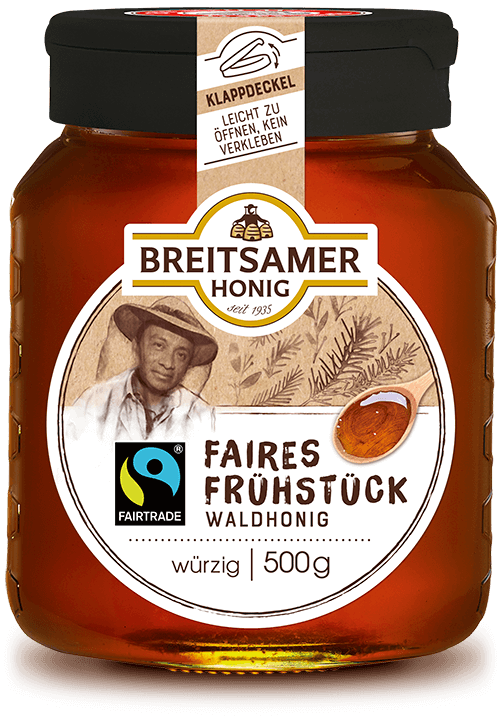 Faires Frühstück Foresthoney, liquid
The scent of the woods gives this honey its character. Darker than blossom honey and aromatic-powerful in taste, it is a rarity among the Fairtrade honeys.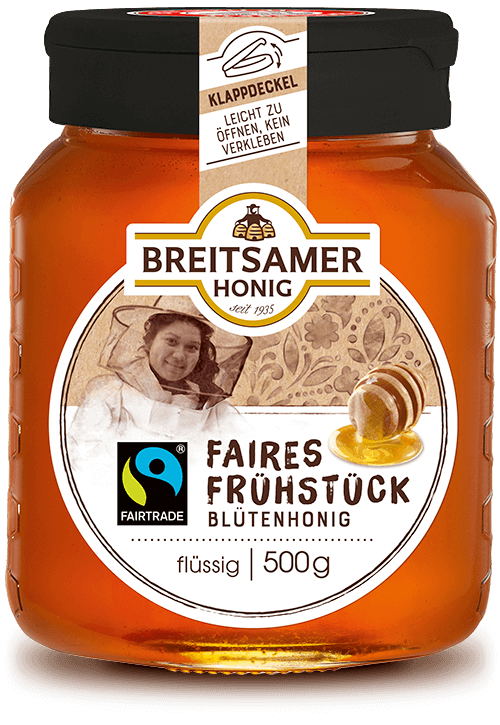 FAIRES FRÜHSTÜCK HONEY, LIQUID
Starting with the first breath of spring up to the late summer, bees collect the sweet nectar from numerous blossoms for the liquid Imkergold fairtrade honey. The blossoms' variety and the time of harvest determine the taste and consistency of this naturally liquid honey. Support small-scale beekeepers by enjoying this artisanal natural product.