Honey is not just honey. Its variety and tasteranges have convinced honeylfans for a long time. Our chestnut honey is one of the extraordinary specialties. Thanks to its characteristic taste, it's the ideal accompaniment to cheese and finds its preferred use in hearty cuisine.
Together with the cheese factory Champignon we have developed two special recipes in which honey and cheese play the main roles. Try it and be surprised by the interplay of sweet and salty components.
FRUITY SUMMER SALAD WITH FIORELLA DI TOMINO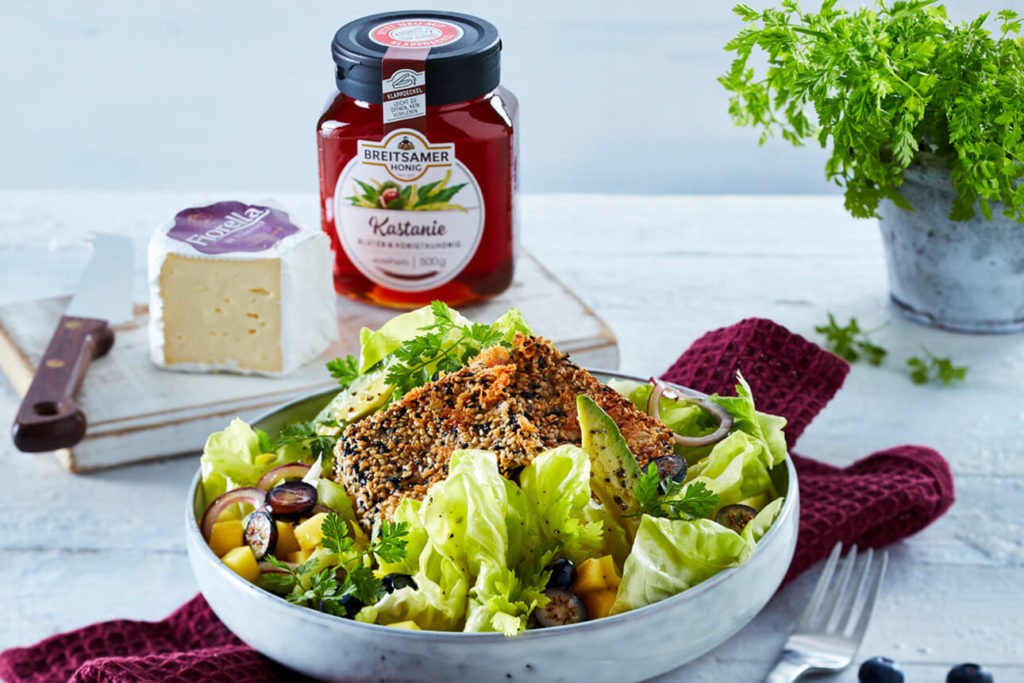 For 4 portions you also need: 2 tablespoons flour, salt and pepper
300 g FIORELLA di Tomino
125 g blueberries
1 head of lettuce
1 mango
1 avocado
4 stalks of celery
1 red onion
1 egg (size m)
Juice of 1 orange
8 tablespoons olive oil
4 tablespoons light sesame
3 tablespoons Breitsamer chestnut honey
3 tablespoons red wine vinegar
2 tablespoons black sesame
Preparation
Wash lettuce, shake dry and tear. Clean, wash and slice the celery. Peel onion and cut into rings. Put celery and onion in a bowl. Season with salt and sprinkle with 1 tablespoon of Breitsamer honey. Leave to stand for about 15 minutes.
Cut the mango off the stone. Peel and chop the flesh. Cut avocado in half and remove seeds. Remove the flesh from the skin and dice. Wash and sort blueberries. Mix orange juice, vinegar, 2 tbsp. Breitsamer honey, salt and pepper. Stir in 6 tablespoons of oil. Mix lettuce, celery and onion mixture, mango, avocado, blueberries and vinaigrette.
Cut FIORELLA di Tomio into slices. Whisk the egg. Turn the cheese slices first in flour, then in whisked egg and finally in the sesame seeds. Heat 2 tablespoons of oil in a frying pan. Fry the cheese slices for approx. 4 minutes while turning. Remove and drain on kitchen paper. Arrange the salad and FIORELLA Crispy Taler and serve.
Preparation time approx. 45 minutes. Per portion approx. 2220 kJ, 530 kcal
PEAR AND FIG TART WITH MONTAGNOLO AND WALNUT CRUNCH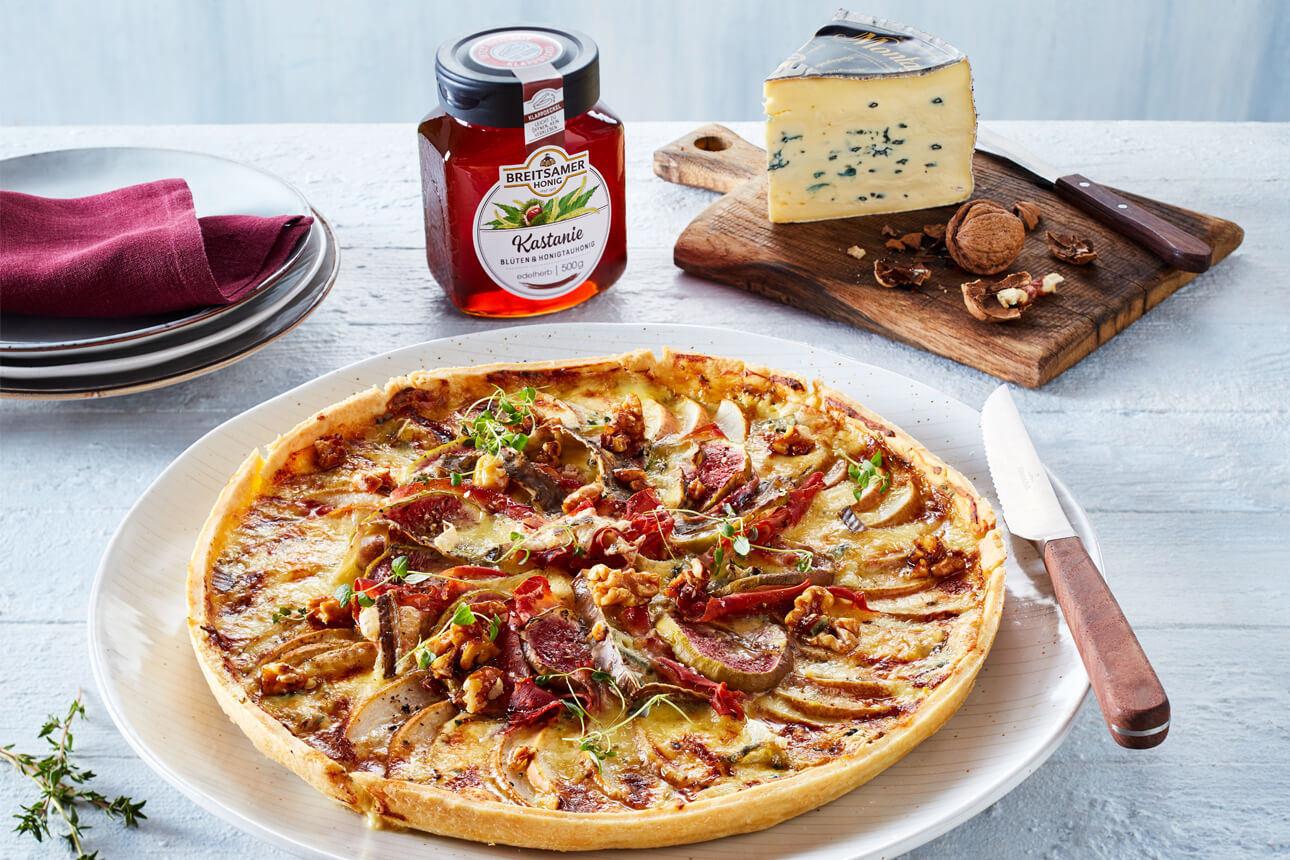 350 g Montagnolo
250 g flour
100 g walnuts
125 g cold butter
80 g Serrano ham
2 pears
2 figs
1 egg (size m)
5 thyme stems
4 tablespoons Breitsamer chestnut honey
1 tablespoon mustard
For 12 pieces you also need: flour for the work surface, fat and flour for the mould, cling film, baking paper, salt, pepper
Preparation
Knead flour, butter in pieces, egg and 1 pinch of salt until smooth. Wrap dough in foil and chill for about 1 hour. Coarsely chop walnuts and roast them in a pan without fat until golden brown. Add 2 tablespoons of Breitsamer honey and let it caramelise. Remove the caramel nuts from the pan, place them on a piece of baking paper and let them cool down.
Knead the dough again and place it on a floured work surface to form a circle (approx. 26 cm Ø). Grease a tart mould (approx. 26 cm Ø) and dust with flour. Place the dough in the mould, press it lightly and cut off the excess edge. Wash the thyme and shake dry. Pluck the leaves from the stalks, except for a few for garnishing. Crumble 50 g Montagnolo. Cut 300 g of Montagnolo into slices. Mix the crumbled Montagnolo, mustard and thyme leaves. Season with salt and pepper. Spread the cheese mixture on the pastry base.  
Wash the pears, halve, core and cut into slices. Wash, clean and slice the figs. First place the pear slices on the outside of the dough. Arrange the fig slices, Montagnolo slices and Serrano ham overlapping in the middle. Season with salt and pepper. Sprinkle with 2 tablespoons of Breitsamer honey. Bake in the preheated oven (electric cooker: 180 °C/ convection oven: 155 °C/ gas: see manufacturer) for about 25 minutes. Take the tart out of the oven and arrange. Garnish with walnut crunch and remaining thyme.  
Preparation time approx. 50 minutes. Waiting time approx. 1 hour. Per piece approx. 1420 kJ, 340 kcal
---