Better ovens, less pollution
Almost 90 % of households in rural India use non-renewable biomass for heat generation. Cooking with wood and other fuels is usually done on inefficient clay stoves. Not only is a considerable amount of energy lost in the process. The toxic smoke worsens air pollution, making it India's biggest health threat, killing 875,000 people annually. In addition, biomass has become scarce and expensive due to its enormous consumption.
To combat these problems, the "Janara Samuha Mutual Benefit Trust" was founded by women from the Raichur community. Together they developed the Chulika stove, which uses almost 70% less fuel. More than 21,500 units have already been sold at a subsidised price.
Thanks to the high efficiency of the stoves, households using the cholika save up to four hours a day in fuel procurement. This brings economic advantages and relieves the burden on women in particular. Due to the reduced smoke emission during cooking, the health situation for families is significantly improved.
Responsibility at Breitsamer
As a family and traditional company, we are aware of our responsibility towards people and nature. We also want to convey to future generations that something special about the unique product honey. Thus we engage ourselves in very different projects. On the one hand, we see it as our task to support beekeeping projects worldwide and to continuously expand them. Only if all parties involved treat each other fairly, a sustainable use of resources is possible.
How does our climate protection project work?
Climate protection projects demonstrably save greenhouse gases, e.g. through reforestation or energy efficiency. Independent organisations such as the TÜV monitor the exact amount of the savings. Only projects that require additional financing are recognized as certified climate protection projects.
Climate neutral honey
Breitsamer honey stands for naturalness and craftsmanship. We attach great importance to the quality and taste of our honeys. For each honey, higher quality requirements apply than those specified by the German Honey Ordinance. That means:
Calculate CO2 We record all CO2 emissions generated in our operations and along the supply chain of our products. We reduce all emissions as far as possible. The calculation is based on the international standards of the "Greenhouse Gas Protocol", the process is certified by TÜV Austria.
Compensate CO2 We support the first internationally recognised Fairtrade climate protection project in India, which is certified to the Gold Standard according to the Fairtrade Climate Standard. The project saves the amount of CO2 emissions we cause locally in India.
Labelling and transparency On each individual jar you will learn where the respective honey was cinnamonated. With the respective ID number you can then trace the emission compensation at www.climatepartner.com.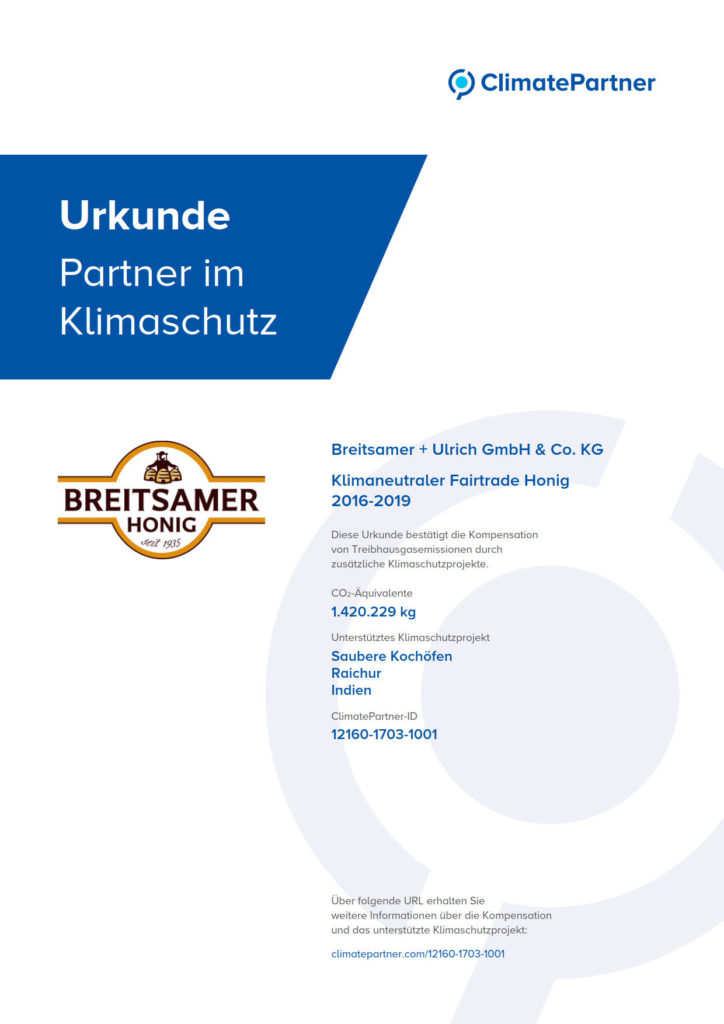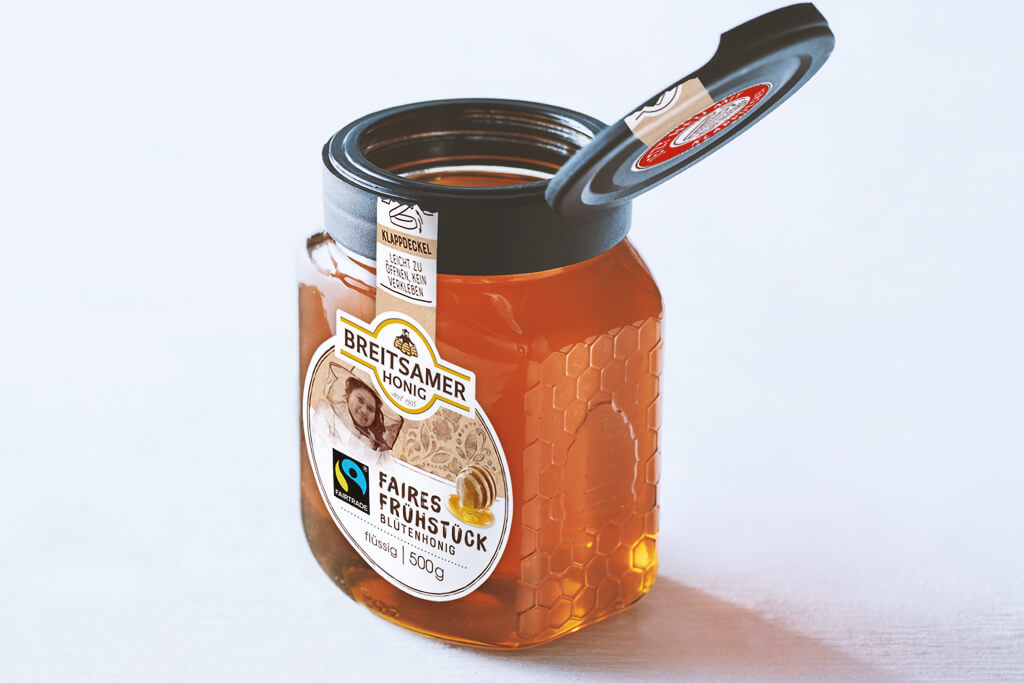 Good reasons for climate-neutral honey
You support a recognised climate protection project
We bear the costs for CO2 compensation
Full transparency of origin
Taking responsibility for people and nature – together