Support beekeeping projects worldwide
A speciality in our assortment is Breitsamer Faires Frühstück. These honeys do not come from Europe, but come from small apiaries in South and Central America. The production according to Fairtrade standards, visible for the consumer through the Fairtrade seal, makes the difference here. For us, as a family business, this is a convincing argument to offer a honey from Latin America in our product range. According to the Fairtrade standards, the beekeepers receive a fixed minimum price for their honeys, long-term purchase contracts and opportunities for co-determination in the cooperative.
Honey as a source of income
Honey is an artisanal product and beekeeping offers people – even without land ownership – a source of income that secures their livelihood. In addition, beekeeping also offers good opportunities as a sideline, e.g. for coffee farmers, to secure income and, if necessary, to compensate for crop losses. Not to be neglected are also higher harvests of cultivated products such as coffee due to the pollination performance of bees. All this has led us to convert the honeys previously known as beekeepers' gold to Fairtrade quality.
Wir sehen es als unsere Aufgabe Imkerprojekte weltweit zu unterstützen und diese kontinuierlich auszubauen. Eine faire und nachhaltige Beziehung zwischen Mensch und Natur ist für uns eine Selbstverständlichkeit. Nur wenn alle Beteiligten fair miteinander umgehen, ist eine nachhaltige Ressourcennutzung möglich. www.fairtrade-deutschland.de
2nd place at the Fairtrade award 2016
We are very pleased about the great success at the Fairtrade Award 2016 in the category Manufacturers. The prize is awarded to companies and civil society players who have shown exemplary commitment to the Fairtrade idea.
Thanks to our loyal customers. You have made this success possible.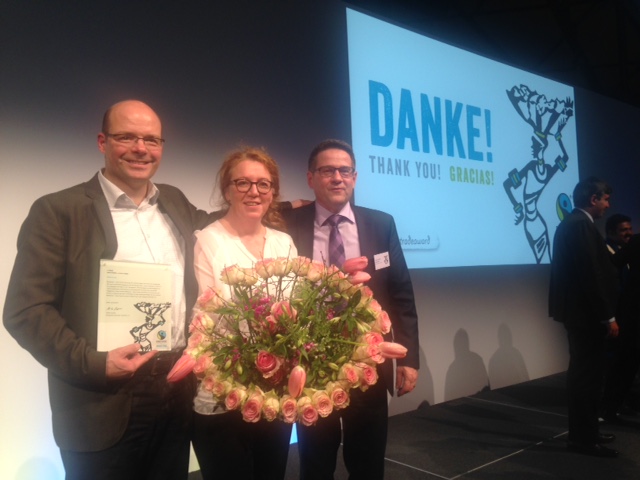 Get some exciting insights
With the Fairtrade Code you can embark on a virtual journey to the individual cooperatives and plantations in the countries of the global south as well as the processing partner companies in Europe. The reports provide an insight into the lives and daily work of the producers in the growing countries.
Use the Fairtrade code on your "Fair Breakfast" honey and enter it here. This will give you precise information about your product, the producers and our commitment.